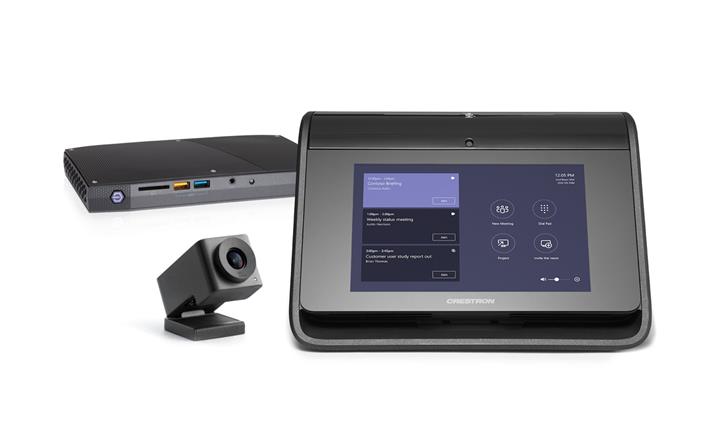 Flex UC-M150-T
Crestron
use the arrow keys to navigate through the pivots and tab to focus on focusable content inside a pivot section
Crestron Mercury UC conference console
Through one tabletop device, the Crestron Flex M150-T system facilitates audio conferencing and control, with simple operation and one-touch meeting join through a feature rich touch screen.
Superb sound quality
The Crestron Flex M150-T system facilitates natural conversations with exceptional audio fidelity and pickup. The console's integrated 360° quad microphone array faithfully captures voices at every seat at the table. Its high-powered, full-range speaker produces full, rich and real sounding audio for both voice and program material.
HD color touch screen
Its 7", high-definition touch screen makes the Crestron Flex M150-T system easy for everyone to use, whether starting or joining an online meeting, dialing or answering a phone call, or looking up contacts. The full-color user interface provides quick access and intuitive operation.
Intelligent HD camera
Compact in size, yet tremendous on performance, the included Huddly™ camera features HD 1080p video resolution with ultra-wide 150° diagonal field of view to capture the entire room..
UC-ENGINE
The UC-ENGINE forms the core of the Crestron Flex M150-T system, providing extreme processing performance, Gigabit Ethernet, and complete connectivity for one or two HD displays, the Huddly camera, and the Crestron Mercury console.
XiO Cloud™ connected
XiO Cloud™ is Crestron's unifying IoT cloud-based platform for remotely provisioning, monitoring, and managing Crestron devices across an enterprise or an entire client base. XiO Cloud™ enables installers and IT managers to deploy and manage thousands of devices in the amount of time it would ordinarily take to manage just one.