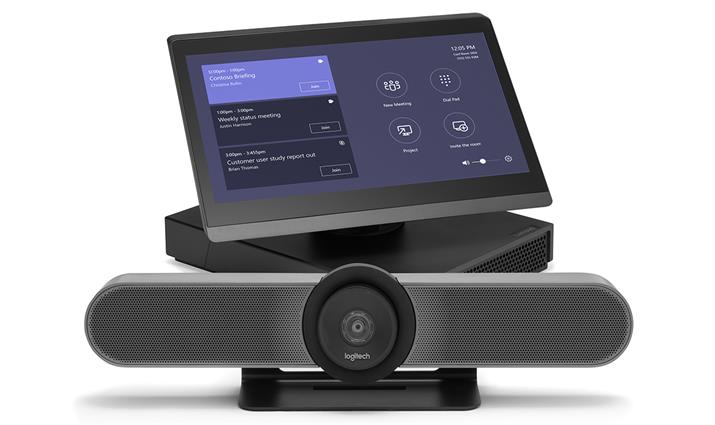 ThinkSmart Hub 500 with Logitech MeetUp for Huddle Spaces and Small Rooms
Lenovo
use the arrow keys to navigate through the pivots and tab to focus on focusable content inside a pivot section
Room system overview
Lenovo ThinkSmart Hub 500 is the smarter way to collaborate. Easy to deploy and use, this all-in-one, purpose-built Skype Room System helps customers deliver more efficient meetings. Whether you're a host or attendee, the ThinkSmart Hub 500 will make your life easier to connect with others and share content. Designed with small to medium-sized conference rooms in mind, it's available in 180 countries. That way, everyone in your organization will be familiar with the system wherever your business takes them.
Developed in cooperation with Microsoft, the Smart Hub 500 is an all-in-one device, with a 360-degree rotatable 11.6-inch display with an antiglare, anti-smudge finish. The Hub 500 also has integrated audio; Dolby Premium Audio speaker output and 360 degree Microphone array.
When it comes to security and practicality, the ThinkSmart Hub 500 has it covered. Windows 10 IoT Enterprise provides intelligent enterprise-grade protection, with the locked down Skype Room Systems Universal application. In addition, an innovative cable management door secures physical ports and prevents cables being accidentally disconnected.
Meetings are time consuming enough without trying to get the technology to work properly. With the Hub 500, you can avoid costly late starts and help create more engaging teams. Simply hit one button and begin collaborating right away.
Video overview
The Logitech Meetup is an all in one solution with a 120˚ field of view perfect for huddle spaces and small meeting rooms.
Audio overview
Integrated audio in the ThinkSmart Hub 500. Dolby Audio Premium tuned speakers.