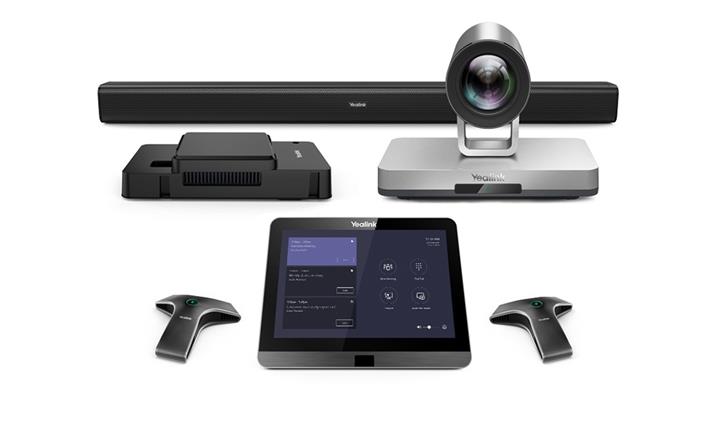 MVC800 Medium Room System
Yealink
use the arrow keys to navigate through the pivots and tab to focus on focusable content inside a pivot section
Superior video performance
The UVC80 12x optical zoom camera delivers sharp, smooth and stable video at a significant distance. Thanks to its wide-angle horizontal field-of-view lens and adjustable camera angle, the MVC800 provides a broad view of medium sized conference rooms, making video conferencing clearer and sharper than ever.
Excellent audio performance
The ability to connect up to four optional wired beam-forming array microphones VCM34, which is combined with 20 feet (six meters) and 360-degree voice pickup technology, makes it easier for everyone to be heard and involved in the meeting.
The included smart noise-proof technology makes video conferencing more effective than ever.
Familiar experience with low learning cost
A consistent and easy Microsoft Teams Rooms and Teams experience facilitates a low learning cost. Minimal cables connect the devices and keep workspaces orderly.
The Yealink MVC series for Microsoft Teams Rooms offers instant wireless content sharing without clutter.
The powerful screen share adapter MShare integrates HDMI and mini-DP input ports and eliminates the need for additional adapters for Mac or Surface products. With built-in support for wireless and dedicated networks, just plug-and-play to start sharing content with a single click.
Simplify deploy and manage
For the Yealink MVC series for Microsoft Teams Rooms, the mini-PC NUC and eight-inch Console MTouch are modular, making it easier for global customers to select and deploy.
The utilization of core Yealink products that work as an integrated total solution permits optimal device compatibility and minimizes breakdown risks.
Together, these features simplify deployment and management and fit a wide range of needs.