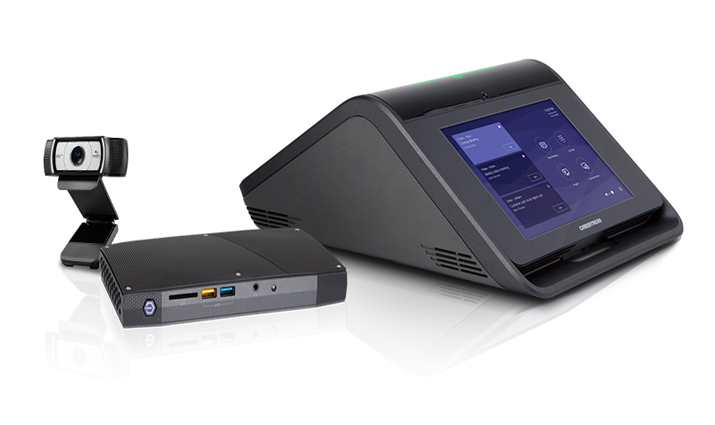 Flex UC-M130-T Focus Room System
Crestron
use the arrow keys to navigate through the pivots and tab to focus on focusable content inside a pivot section
Conference console
Through one amazing tabletop device, the Crestron Flex UC-M130-T system facilitates effortless audio conferencing and control, with simple operation and one-touch meeting join through a feature rich touch screen displaying the Microsoft Teams Room UX that is familiar to users. Additionally, the Crestron Flex systems allow the ability to integrate with a Crestron control system to enable touch screen control over room lighting, motorized window shades, climate control, AV, and other amenities, all through the same display at the push of a button.
Camera
The Crestron Flex UC-M130-T features the compact Logitech c930e HD 1080p camera.
UC-Engine
The UC-ENGINE forms the core of the Crestron Flex UC-M130-T system, providing extreme processing performance, Gigabit Ethernet, and complete connectivity for one or HD display, the HD camera, and the Crestron Mercury console.
XiO Cloud™ connected
Hosted in Microsoft Azure IoT Hub, Crestron XiO Cloud™ is the unifying cloud-based IoT platform for remotely provisioning, monitoring, and managing Crestron devices across an enterprise or an entire client base. Crestron XiO Cloud™ enables installers and IT managers to deploy and manage thousands of devices in the amount of time it would ordinarily take to manage just one.