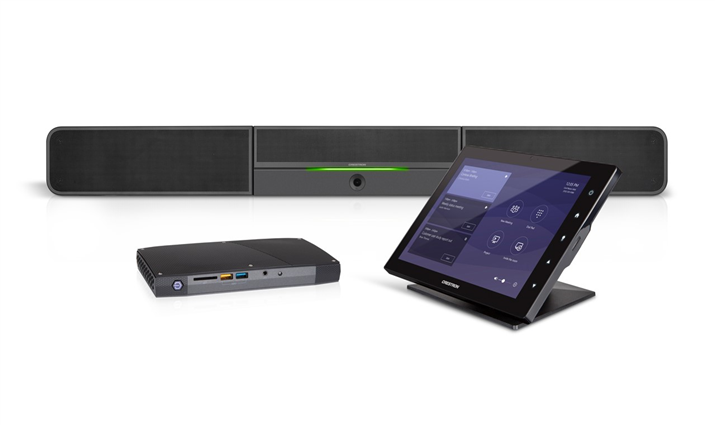 Flex UC-B140-T Huddle Space System
Crestron
use the arrow keys to navigate through the pivots and tab to focus on focusable content inside a pivot section
Console
The Crestron Flex UC-B140-T system ships with one 10" tabletop touch screen included. A second touch screen (TSW-1060 Series) may be added to provide a second point of control. Additionally, it allows the ability to integrate with a Crestron control system to enable touch screen control over room lighting, motorized window shades, climate control, AV, and other amenities all through the same display at the push of a button.
Audio
The Crestron Flex UC-B140-T system facilitates effortless conferencing without any other microphones, speakers, or camera to install. Mounted on the wall or placed on a credenza beneath a display, the smart sound bar looks great and sounds even better. Its high-powered stereo speakers, adaptive beamforming microphone, and advanced digital signal processing deliver exceptional full-duplex speakerphone performance with highly intelligible, echo-free voice clarity. Its compact, all-in-one design reduces clutter on the conference table, and even accommodates rooms with no table at all.
Camera
Compact in size, yet tremendous on performance, the built-in Huddly camera features a 4k sensor, outputting HD 1080p video resolution with an ultra-wide 150° diagonal field of view to capture the entire room.
UC engine
The UC-ENGINE forms the core of the Crestron Flex UC-B140-T system, providing extreme processing performance, Gigabit Ethernet, and complete connectivity for one HD display, camera, and the tabletop touchscreen console.
XiO Cloud connected
XiO Cloud is Crestron's unifying IoT cloud based platform for remotely provisioning, monitoring, and managing Crestron devices across an enterprise or an entire client base. It enables installers and IT managers to deploy and manage thousands of devices in the amount of time it would ordinarily take to manage just one.