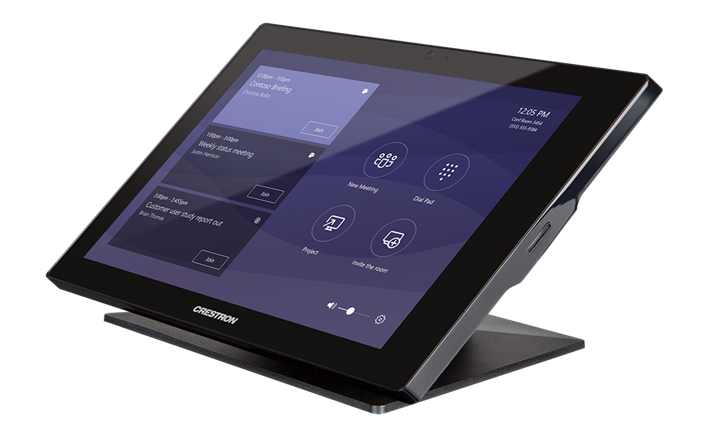 Flex C160-T video conference integrator kit
Crestron
use the arrow keys to navigate through the pivots and tab to focus on focusable content inside a pivot section
Custom room integration
The Flex C160-T system provides the essential components needed to design a fully custom Microsoft Teams based video conferencing space using your choice of display devices, cameras, speakers, microphones, and other AV equipment. Any Microsoft Teams compliant USB camera and USB audio conferencing interface (or speakerphone) may be used. A non-USB camera or camera switcher may also be integrated by adding a video converter, model HD-CONV-USB-100 (sold separately).
Table top touch screen
Whether starting or joining an online meeting, dialing or answering a phone call or video call, looking up contacts, or presenting and sharing content, the Flex C160-T system is incredibly easy and intuitive to use. Simple operation and one-touch meeting joins are facilitated through a customizable, feature-rich touch screen UX familiar to users of Microsoft Teams and Office 365 software. Its native Teams UI means staff members can move effortlessly between using Crestron Flex in the meeting room and a phone or personal computer at their desk or workstation. Built-in calendaring and corporate directory access provide knowledge workers with the tools they need to work smart and efficiently.
UC engine
The UC Engine forms the core of the Flex C160-T system, providing processing performance, Gigabit Ethernet, and complete connectivity for one or two HD displays, a USB camera, and a USB speakerphone or audio conferencing interface. Presenting and sharing content from a single laptop PC, or from the output of an AV switcher, is facilitated through a single HDMI® input, which supports full-motion HD video and audio via the included HDMI to USB converter. The converter and UC Engine are mounted together on a bracket, which comes fully pre-assembled and ready to install behind the display device(s).