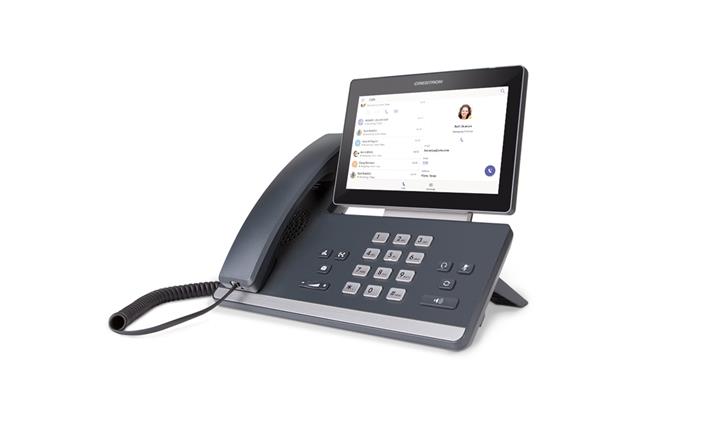 Flex UC-P110-T for Microsoft Teams
Crestron
Select the Overview or Tech Specs tab button to view related content below.
Crestron XiO Cloud
Deploy, monitor, and manage your workplace technology on a single platform. Built in Microsoft Azure IoT Hub and winner of the 2018 Microsoft Global Partner of the Year award for IoT, Crestron XiO Cloud allows for streamlined management of the entire Crestron platform. Deploy–reduce installation time by up to 90%. Manage–configure up to thousands of devices in the same time it takes to configure one. Monitor–resolve events remotely to improve device uptime. Evolve–gather usage data to reveal areas for improvement with no programming.
HD color touch screen
A 7" full-color touch screen makes the desk phone easy for everyone to use, whether dialing or answering a phone call, starting or joining an online meeting, looking up contacts, viewing call history, accessing voicemail, managing your calendar, or logging in as a new user. The physical keypad provides the essential controls for dialing out, managing an in-progress call, muting or adjusting volume, or switching to hands-free or headset mode.
Superb sound quality
Crestron VoIP desk phones facilitate perfectly natural conversations with highly intelligible voice clarity, whether speaking privately on the handset or headset, or conferencing using the hands-free speakerphone function. High-performance AEC technology achieves transparent full-duplex performance free of distracting echo or noise. Wideband audio codec support allows for full-spectrum, bidirectional voice communication. The handset is hearing aid compatible to ensure an optimal experience for individuals with hearing impairment.